Claim Your FREE $100 Venmo OR Amazon Card as a THANK YOU from Homebase Services!  We are delighted to send you a FREE $100 Rewward for referring to our service as your REFERRAL SOURCE when you apply for your new apartment.  Use this form to submit your apartment details and claim your $100 FREE reward!  REFERRAL REWARD FORM.  See below for Terms & Conditions.
GET STARTED ON YOUR 100% FREE APARTMENT SEARCH HERE: START HERE.
REFER a FRIEND!  Earn FREE $100 Reward for Each FRIEND you refer that uses our service! Send 10 friends? Get a $1000 in Venmo or Amazon cards when they apply! REFER A FRIEND DETAILS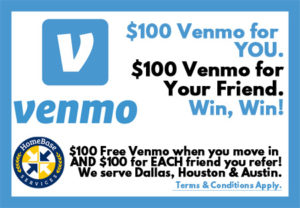 How does this work? Basically, we receive a fee for advertising a property when our advertisement results in a lease. When we receive a report of someone signing a lease at any property and referring to HomeBase Services on their application, we then collect a fee from the property. We share this fee with you.
This is how you claim your reward:
FIND: Search and Find your apartment using our service.  Use the leasing contact we provide to get immediate pricing and availability. OR simply let us know your needs.  We will take care of getting you information promptly and get you details back quickly.
INFORM: Inform the apartment that Homebase Services (or REALTOR or LOCATOR SERVICE) is how you found out about them, both on the GUEST CARD and on the LEASING APPLICATION, when you apply for the apartment. There is a section on the LEASING APPLICATION that says "How did you hear about us" on the right hand side of the application. Please mention HomeBase Services in that section.
CLAIM: Claim your referral reward by submitting your information here.
Once you have submitted your Referral Reward Form and moved into your apartment, here is when you will receive your reward:  
As soon as your apartment property pays us, we pay you. Apartments will typically pay us about 30-120 days after you've moved in.
The faster you submit your form, the faster we can send you your reward.
Rules for receiving a referral:
Your name must appear as the main lease holder on the apartment unit you are moving into AND on your leasing application.
Only one person occupying your apartment is eligible to claim the reward for a single apartment lease. For example, if you have a roommate, please decide which person should claim the single reward.
You must submit your reward form either before you move in or within 1 month after you have moved in. Rewards forms submitted after 1 month of move-in are not eligible for the reward.
You must list as your SOLE referral source on your GUEST CARD (if you tour in person) AND on your leasing application.
You are requested to submit a review to GOOGLE (Homebase Services) about the service you received.
The housing must be in the Dallas/FW, Houston or Austin metro areas.
If these things occur, we can NOT send you a referral reward:
You already live at the apartment and are renewing your lease.
You already have a leasing relationship with this property or your new lease is at a property that is from the same management company.
You are an employee of the property that you are leasing at.
On your lease, if you listed any other source as your referral to the property other than HomeBase Services
If you have a roommate, they listed another source other than Homebase Services on your leasing application or lease.
You have not fulfilled your lease commitment or you have not made timely rent payments.
Your lease term is for less than 12 months.
If you do not move into your apartment and stay atleast 90 days. In that case we will require you to return the card we sent.
Only one card per apartment is allowed. Roommates can not claim multiple cards for the same apartment .
You did not follow the instructions on this page
Occasionally some properties do not pay a commission to allow us to pay you a reward.
If you choose a property that is not in our recommendations, we may not be able to pay a reward to you, even if you meet all other requirements above.
College housing is specifically NOT included in a reward.
If you have any other questions with regard to receiving your reward, please reach out to us and we will respond shortly. Thank you!