Relocation Touring Guidelines for University Hires For Coronavirus Prevention
Press Release:  Homebase Services Inc – March 17 2020
Summary: The following article contains recent developments concerning relocation in the area of In Person and Virtual Rental Touring. This is written specifically for university hires in TEXAS cities of Dallas, Houston and Austin but also for their recruiters.   Apartment Touring is not prohibited by any federal or state requirements but proper precautions should be observed to best protect university new hires against the Coronavirus.
Suggestions are included for university hires to use during touring  that conform to  Coronoavirus Federal Guidelines.    Virtual tour practices are also included. A new service from new Homebase Services provides a virtual touring service called: AIR TOUR SERVICE.  This service exceeds all federal and state guidelines for touring.
Welcome University Hires!
Welcome University Hires! You've gotten the wonderful dream job with your employer. It's time to build an exciting career and we are here to help you.  With events of the past few weeks in the US with the Coronavirus, you may have concerns about how to properly conduct your search.  So, we want to give you clear guidance  to use during your rental  apartment search that will provide protection for you and also conform to recent federal guidelines to use.  We also suggest to follow any additional guidelines from your new employer as well.
Texas Apartment Touring & the Coronavirus – Latest Facts
It's important to use the latest Federal Guidelines in the next few months for minimizing the spread of the Coronavirus.  These can and should be applied to apartment touring.
The good news: Apartment leasing offices throughout Texas remain fully open for business to assist university hires in their housing search.  Additionally, most apartment leasing in person tours aren't prohibited by federal guidelines coronavirus or recent mandates in Dallas, Austin or Houston.  The specific guideline most applicable is: Public gatherings should be limited to 10 people or less.  This unfortunately applies to restaurants, nightclubs and gyms. However, there are no federal or state guidelines specifically preventing live in person touring at apartments.
However, that doesn't mean that precautions shouldn't be taken when touring.  Federal guidelines provide excellent suggestions for both university hires and leasing agents to use during an apartment tour, including:
Wash your hands especially after touching frequently used item or surface
Avoid touching your face
Disinfect frequently used items and surfaces
Sneeze or cough into a tissue or the inside of your elbow
Leasing Agents will limit IN PERSON tours in the following ways:
Appointments ONLY: You will not be allowed to just walk in to tour in many cases. You will need to set a timed appointment.
Model Homes Used Primarily:  Some leasing agents may now use primarily "Model Homes" to preview for clients and not show "inventory" homes. This allows for agents to keep model homes cleaned daily that come in contact with clients. But it also can limit
Stricter Hygiene of Leasing Agents: Agents are instructed to wash hands frequently and not make physical contact with clients. Gloves may also be worn as well.
Event Participation Restricted:  Leasing agents in the past may have invited clients to attend monthly tenant parties.  But parties may now be limited or shut down. Thus, clients are not going to be invited at this time.
Touring parties are limited:  Gatherings of more than 10 people are not suggested at this time. So a large party for touring will not be a good idea and may not be served.
Staff members who are believed to have had contact with anyone infected, or are showing signs of
illness, have been placed on tight restrictions
University Hires should also follow these suggestions for a live IN PERSON tour which are based on the federal guidelines:
Shaking Hands Not Allowed: The Leasing agent will probably not shake your hand. He or she is trying to be respectful by not doing so.
Use Hand Sanitizer Frequently:  Prior to the last few weeks, it might be socially frowned upon to use hand sanitizer after shaking hands or in direct interaction with other people.  However, you might carry a small hand sanitizer and use it frequently when touring.  As a courtesy, offer it to your leasing agent. This will ease social awkwardness! 🙂
Ask about Safety Measures Taken:  It IS ok and encouraged to ask your leasing agent about safety measures being taken daily or weekly by their leasing team to reduce the Coronavirus spread.
Sickness Symptoms should STOP a tour immediately: If either you or your leasing agent has sickness symptoms, do not tour.
Don't Touch Model Home Furniture, Etc:  It's normal to want to touch furniture, countertops and more.  You might avoid doing this for the next few months.  If you accidentally do so, please tell your leasing agent.
Virtual Touring Service – The AIR TOUR from Homebase Services
You may also want to consider a VIRTUAL TOUR.  Apartments are now open to more virtual solutions to touring. Where these were an option used only occasionally before, apartment will be actively pursuing these options in the next few months.
Good News: Homebase Services  has designed a Virtual Touring Service for university new hires that EXCEEDS all federal and state guidelines: The Air Apartment Tour from ApartMinute, a free service of Homebase Services.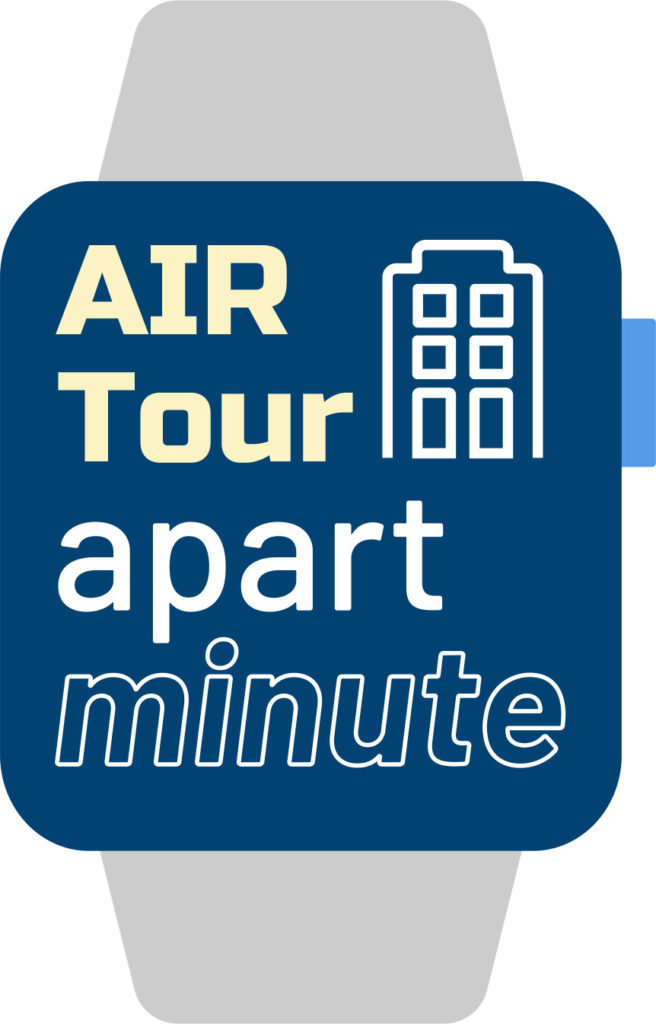 Homebase Services has an existing free touring service called ApartMinute that provides an easy solution to set up multiple apartment tours in as little as one minute. The service works with university hires and thousands of of apartments throughout Texas cities (Dallas, Houston and Austin) to provide a smooth, easy live, In Person tour. The service is free.   Users can use either the IPhone App or Website to schedule and track the service.   ApartMinute also allows campus hires to grade/score each apartment and take notes as they tour it using the App.
The new AIR TOUR Service will allow university hires to use free FaceTime or ZOOM app to conduct multiple property tours VIRTUALLY instead of being In Person.   University hires will use a single, easy-to-use interface to schedule all virtual tours. Apartment leasing agents will use virtual technology to conduct the apartment tour. 
The ApartMinute AIR TOUR will remain free for university hires.  
How does the AIR TOUR work? 
You schedule multiple properties for virtual touring on ApartMinute
You will hop on an APP to begin the FIRST property tour.
The leasing agent will tour key amenities of the apartment.
The leasing agent will also show models and/or specific units of the apartment
The leasing agent will answer questions
The leasing agent will provide floorplan/pricing to the university hire (through email instead of in person)
Leave feedback
Prepare for the next tour!
Key Advantages of the Homebase AIR TOUR over the IN PERSON Tour:
ADVANTAGE: Tour appointments now required are quickly taken care of.
ADVANTAGE: The leasing agent is free to show both model homes and also inventory homes, which may not be possible in person at some residences. This allows more options to be available to university hires than an in-person tour.
ADVANTAGE:  Costs to fly/drive (and time involved) to each location are eliminated.
ADVANTAGE: Related costs such as hotel, etc are eliminated.
ADVANTAGE: This EXCEEDS all federal guidelines for the Coronavirus.  All risks are eliminated.
Further, Homebase is now working with Texas apartments to conduct a "standard virtual tour" that conforms to Coronavirus Federal Guidelines.  They are providing suggested guidelines and technology for apartments to use for safer in person touring and how to best carry out a satisfying virtual tour.  This is to provide a better and safer experience for university hires.
ADDITIONAL SUGGESTIONS for UNIVERSITY HIRES WHO USE VIRTUAL TOURING
Virtual touring has many advantages, including convenience, time savings and money savings.  However, to best take advantage of a virtual tour, we recommend these additional suggestions:
Download your APP to use for the tour 1 hour before the tour!
Make sure your leasing agent has sent you instructions on what app they are using to tour!
How Far In Advance to Request the Tour?:  Virtual tours can requested with 1 day advance notice. However, for weekend requests, we recommend that you put in the request 3 days in advance if possible.
Time Expected for Tour: A virtual tour should take about the same time as a In Person tour.  Usually that's about 30 minutes.
Be Patient: The leasing agent may not be used to giving a virtual tour.  Be patient with them as needed.
More Flexible Decision Deadline:  Since a virtual tour can happen within 24 hours of requested, this means you can make decisions more quickly and be ready for better fit apartment openings that might come up more quickly.
Apartment Specials Deadlines:  Leasing agents will sometimes offer special incentives to lease quickly to an in person-tour.  These are often tied to a decision timeframe.  Please make sure to ask on your virtual tour if any of these exist.
Keep it In Writing:  Please make sure your apartment needs are addressed in emails wherever possible to have a written document trail. These can be easy to address in person, but may be assumed but not clearly communicated if virtual.
Asking to See Specific Units OK:  The leasing agent should be able to show you specific units that look somewhat like your floorplan (as long as inventory exists). It may not be the same exact floorplan, but it should look similar.  It is ok to ask for and expect that during your virtual tour.
FOR FURTHER  ACTION & INFORMATION
University hires can sign up for the free AIR TOUR at ApartMinute.com .  The AIR TOUR Service goes live on on March 19 2020.  University hires are recommended to also complete the free housing request at Homebase Services in addition to signing up at ApartMinute. This will allow for Homebase to provide guidance on best properties to tour.
University recruiters can request more information about our free virtual touring service for new hires here: CLICK HERE.
To receive further updates: please CLICK HERE