Hello to all new and recent grads moving to Dallas!  We are a 100% free service for new grads to find the best deals on Dallas apartments. We focus on areas like Uptown Dallas, Downtown Dallas, Trinity Groves, East Dallas and more!
Would you like to receive this week's specials FREE  before the general public? Sign up for our 100% Free-to-You Service to find your perfect apartment. It will save you hours of time and remove your stress. We serve new grads & young professionals moving to Dallas, Houston and Austin.   Free Signup: HERE   When you apply for your new apartment, you will also receive a free $100 Amazon card as well as a thank you for using our free service.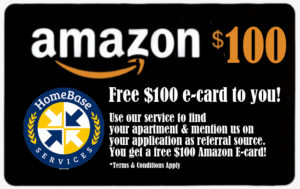 THIS WEEK: We've combed through over 250 apartments this week to find over 150+ apartments in Dallas offering some great free rent incentives.   Many of these are new or recently built. This week's list is below!
PDF LINK to a sample list: March-22-2018-Dallas-Apartments-Free-Rent-Specials-Homebase-Services
Dallas Apartment Free Rent Special – As of March 2018 (these are from last year – Sign up here for your free list)
| | | | | | |
| --- | --- | --- | --- | --- | --- |
| Property | Special! | Starting 1B | Starting 2B | Year Built | Area of Town |
| Alara Uptown | 1 month free! | $1,451 | $1,983 | 2012 | D10-UptownNorth |
| Aura on McKinney | 1.5 month free! | $1,418 | $1,418 | 2016 | D10-UptownNorth |
| Cityplace Heights | 6-8 weeks free! | $1,412 | $1,879 | 2013 | D10-UptownNorth |
| Flats at The Sawyer | 2 months free! | na | | 2006 | D10-UptownNorth |
| Gallery at Turtle Creek | 1 month free! | $1,243 | $2,142 | 2014 | D10-UptownNorth |
| Lofts at The Sawyer | 1 month free on 2 beds! | | | 2006 | D10-UptownNorth |
| Monaco on the Trail | 1 month free! | | | 2009 | D10-UptownNorth |
| Oakwood Dallas Uptown | 1 month free! | | | 2003 | D10-UptownNorth |
| One Oak Grove | 2 months free! | $1,700 | | 2016 | D10-UptownNorth |
| Radius at Turtle Creek | $1,000 off 1st month! | $1,355 | $1,800 | 2001 | D10-UptownNorth |
| The Lennox at West Village | 2 months free! | $1,523 | $1,765 | 1999 | D10-UptownNorth |
| Uptown at Cole Park | 1 month free! | | | 2016 | D10-UptownNorth |
| 28TwentyEight | 1 month free! | | | 2017 | D11-UptownSouth |
| Avenue on Fairmount | $1,000 off 1st month! | | | 2015 | D11-UptownSouth |
| Miro | 1 month free! | $1,519 | $3,299 | 2016 | D11-UptownSouth |
| Skyhouse Dallas | $500 off first month! | | $2,410 | 2013 | D11-UptownSouth |
| Stella | 2 months free on 2 beds! | $1,585 | $2,515 | 2016 | D11-UptownSouth |
| The Alexan | 1 month free! | $1,315 | $2,365 | 2015 | D11-UptownSouth |
| The Ascent Victory Park | 1 month free! | $2,025 | $3,656 | 2017 | D11-UptownSouth |
| The Ashton | 2 months free! | | | 2005 | D11-UptownSouth |
| The Katy In Victory Park | 1 month free! | $1,505 | $2,970 | 2017 | D11-UptownSouth |
| The Vista | $500 off 1st month! | $1,300 | $2,275 | 2007 | D11-UptownSouth |
| Armstrong at Knox | 1.5 month free! | $1,865 | $3,175 | 2015 | D12-Knox Henderson |
| Bell Knox | 1 month free! | | | 2014 | D12-Knox Henderson |
| Carrerra at Cole | 1 month free! | | | 1995 | D12-Knox Henderson |
| Easton | 1 month free! | | | 1960 | D12-Knox Henderson |
| Knox Heights | 1.5 month free! | $1,916 | $2,665 | 2016 | D12-Knox Henderson |
| Magnolia Moser | 1 month free! | | $2,399 | 2017 | D12-Knox Henderson |
| Magnolia off Henderson | 1 month free! | $1,429 | $2,399 | 2017 | D12-Knox Henderson |
| Slate at Cole | 1 month free! | $1,374 | $1,909 | 1993 | D12-Knox Henderson |
| The Katy | 1.5 month free! | | | 2017 | D12-Knox Henderson |
| Alta Farmers Market | $1,000 off 1st month! | $1,265 | $1,860 | 2015 | D20-Farmers Market/Deep Ellum |
| Pure Farmers Market | 1 month free! | $1,260 | $1,550 | 2015 | D20-Farmers Market/Deep Ellum |
| Alexan West Dallas | 2 months free! | $1,100 | $1,585 | 2016 | D21-Bishop/Trinity Groves |
| Alta Yorktown | .5 month free! | $1,135 | $1,915 | 2015 | D21-Bishop/Trinity Groves |
| Broadstone LTD | 1.5 month free! | $1,295 | $1,805 | 2017 | D21-Bishop/Trinity Groves |
| Cypress at Trinity Groves | 1 month free! | $1,108 | $2,433 | 2016 | D21-Bishop/Trinity Groves |
| Magnolia on Bishop Arts | $500 off 1st month! | | | 2014 | D21-Bishop/Trinity Groves |
| The Austin at Trinity Green | 6-8 weeks free! | $1,300 | $1,886 | 2016 | D21-Bishop/Trinity Groves |
| The Kontour at Kessler Park | 1 month free! | | | 1960 | D21-Bishop/Trinity Groves |
| 1900 Elm | 1 month free! | | | 1960 | D22-Downtown |
| Arrive West End | 1 month free! | $1,325 | $1,725 | 2008 | D22-Downtown |
| Manor House | 1 month free! | $1,621 | $2,107 | 1966 | D22-Downtown |
| One Dallas Center | $750 off 1st month! | $1,352 | $3,027 | 2013 | D22-Downtown |
| South Side Flats | 1 month free! | | | 2015 | D22-Downtown |
| South Side on Lamar | $500 off first month! | | | 1960 | D22-Downtown |
| The Mayflower | 1 month free! | $1,350 | $2,119 | 2017 | D22-Downtown |
| Third Rail Lofts | 1 month free! | | $1,950 | 2007 | D22-Downtown |
| 27TwentySeven | 1 month free! | $987 | $1,718 | 2015 | D23-MedicalDistrict |
| Alexan Riveredge | 1 month free! | $896 | $1,770 | 2017 | D23-MedicalDistrict |
| Alta Design District | 1 month free! | $1,225 | | 2009 | D23-MedicalDistrict |
| Alta Strand | 1 month free! | | | 2017 | D23-MedicalDistrict |
| Avant | 1.5 month free! | $1,220 | $1,710 | 2013 | D23-MedicalDistrict |
| Inwood Station | 2 months free! | $1,225 | $1,750 | 2017 | D23-MedicalDistrict |
| Lucas at Cedar Springs | 1 month free! | | $2,030 | 2016 | D23-MedicalDistrict |
| Maple District Lofts | 1 month free! | $1,020 | $1,495 | 2015 | D23-MedicalDistrict |
| The Dylan Residences | $500 off .5 month! | $1,260 | $1,665 | 2009 | D23-MedicalDistrict |
| Alesio Urban Center | 1.5 month free! | $1,261 | $1,408 | 1987 | D30-LasColinas |
| Alexan Las Colinas | 6 weeks free! | | | 2016 | D30-LasColinas |
| Gables Water Street | 1.5 month free! | | | | D30-LasColinas |
| Jefferson Las Co | 1.5 month free! | $1,441 | $1,746 | 2017 | D30-LasColinas |
| Jefferson Riverside | 1.5 month free! | $1,441 | $1,746 | 2017 | D30-LasColinas |
| Lincoln Waters Edge | 1 month free! | | | 2014 | D30-LasColinas |
| Monterra | 1 month free! | $1,280 | $1,560 | 2007 | D30-LasColinas |
| Magnolia at Lakewood | 1 month free! | $1,199 | $1,949 | 2017 | D40-East Dallas |
| 2660 Cityplace | 1 month free! | $1,090 | $1,796 | 2013 | D41-Old East Dallas |
| 910 Texas Street | 1.5 month free! | | | 1999 | D41-Old East Dallas |
| Alexan Henderson | 1.5 month free! | $1,275 | $1,780 | 2017 | D41-Old East Dallas |
| B&F Flats | 1 month free! | | | 2017 | D41-Old East Dallas |
| Haskell Flats | .75 month free! | | | 2017 | D41-Old East Dallas |
| Icon at Ross | 6 weeks free! | $1,075 | $1,655 | 2011 | D41-Old East Dallas |
| Loft Row | 1 month free! | $1,271 | $2,437 | 2015 | D41-Old East Dallas |
| Vue Fitzhugh | 1.5 month free! | $1,105 | $1,650 | 2004 | D41-Old East Dallas |
| 5 Mockingbird | 1.5 month free! | $1,243 | $1,792 | 1999 | D42-Midtown |
| Crest at Glencoe | 1 month free! | $1,090 | $1,858 | 2014 | D42-Midtown |
| Domain at Midtown Park | 2 months free! | $1,174 | $1,650 | 2017 | D42-Midtown |
| Landmark on Lovers | $500 off 1st month! | | | 2013 | D42-Midtown |
| Lofts at Mockingbird Station | 2 months free! | | | 2000 | D42-Midtown |
| The Atwood | 1 month free! | $1,122 | $2,647 | 2017 | D42-Midtown |
| The Avery on Southwestern | .5 month free! | | | 2009 | D42-Midtown |
| The Ellison | 2 months free! | $1,605 | $2,581 | 2017 | D42-Midtown |
| Avondale Parc at Bellmar   | $500 off 1st month! | | | | D43-NorthDallas |
| Hadley at Bellmar   | $500 off first month! | | | | D43-NorthDallas |
| Madison at Bellmar   | 1 month free! | | | | D43-NorthDallas |
| Park Fountains at Preston Hollow   | 1 month free! | | | | D43-NorthDallas |
| Preston Hollow Village   | .5 month free! | | | | D43-NorthDallas |
| Riverfalls at Bellmar   | 1 month free! | | | | D43-NorthDallas |
| Seville at Bellmar   | 1 month free! | | | | D43-NorthDallas |
| The Mark at Midtown Park   | 4 weeks free! | | | | D43-NorthDallas |
| Hanover Midtown Park | 2 months free! | $1,021 | $1,630 | 2017 | D44-Northeast |
| Modena | 2 months free! | $1,205 | $1,742 | 2017 | D44-Northeast |
| Park Beverly | $400 off 1st month! | $725 | | 1963 | D44-Northeast |
| The Nash Dallas | 1.5 month free! | $1,195 | $1,875 | 2017 | D44-Northeast |
| Aura 5515 | 1 month free! | $1,220 | $1,780 | 2017 | D60-Far North Dallas |
| Aura Prestonwood | $250 off first month! | $1,090 | $1,700 | 2015 | D60-Far North Dallas |
| Broadstone 5151 | 2 months free on 1bed! | $1,260 | $1,855 | 2017 | D60-Far North Dallas |
| City North | $1,800 off first month! | | | 1960 | D60-Far North Dallas |
| Courts of Bent Tree | 1 month free! | | | 1990 | D60-Far North Dallas |
| Modera Near The Galleria | 1 month free! | | | 2017 | D60-Far North Dallas |
| Savoye at Vitruvian | .5 month free! | $1,182 | | 2009 | D61-Addison |
| Mustang Station | 1.5 month free! | $1,045 | $1,500 | 2015 | D62-Carrollton/Farmers Branch |
| Prairie Crossing | 1 month free! | | | 2008 | D62-Carrollton/Farmers Branch |
| Riverside Park | 1 month free! | $1,140 | $1,625 | 2017 | D62-Carrollton/Farmers Branch |
| Alexan Crossings | 1 month free! | $1,070 | $1,655 | 2017 | D70-Richardson |
| AMLI Galatyn Station | $500 off 1st month! | | | 2008 | D70-Richardson |
| Brick Row Urban Village | $250 off 1st month! | | | 2011 | D70-Richardson |
| Jefferson Galatyn Park | 1.5 month free! | $1,269 | $1,632 | 2017 | D70-Richardson |
| The Flats at Alta Palisades | 1 month free! | | | 2017 | D70-Richardson |
| The Lofts at Alta Palisades | 1 month free! | | | 2017 | D70-Richardson |
| The Riley and The Lyla | 3 months free! | | | 2017 | D70-Richardson |
| The Shire | 2 months free! | | | 2014 | D70-Richardson |
| Bel Air Willow Bend | $500 off 1st month free! | $999 | $1,425 | 1985 | D90-West Plano |
| Broadstone Evoke | 2 months free! | $1,225 | $2,030 | 2017 | D90-West Plano |
| Colonnade at Willow Bend | $350 off first month! | $965 | $1,330 | 1994 | D90-West Plano |
| Domaine | $250 off first month! | $1,041 | $1,330 | 1999 | D90-West Plano |
| Huntington | 1 month free! | $1,275 | $1,975 | 2017 | D90-West Plano |
| Lakeshore at preston | $200 off 1st month! | | $1,384 | 1997 | D90-West Plano |
| Parker | $1,000 off 1st month! | $1,269 | $1,591 | 1998 | D90-West Plano |
| Waters Edge | .5 month free! | $1,086 | $1,529 | 1999 | D90-West Plano |
| Axis 3700 Plano | $1000 off 1st month! | $1,020 | $1,495 | 2015 | D91-CentralPlano |
| Legends at Chase Oaks | 1 month free! | | | | D91-CentralPlano |
| Ranch at Ridgeview | 1 month free! | | | | D91-CentralPlano |
| Thornbury at Chase Oaks | $250 off .5 month! | | | | D91-CentralPlano |
| Bel Air Plano | .5 month free! | | | | D92-East Plano/Murphy |
| Park at Gateway | 1 month free on 2 beds! | $1,150 | $1,499 | 2016 | D92-East Plano/Murphy |
| Amalfi Stonebriar | $300 off 1st month! | | | 2013 | D94-Frisco |
| Echelon at The Summit | 1 month free! | | | 2017 | D94-Frisco |
| Jefferson at Stonebriar | 1.5 month free! | $1,216 | | 2017 | D94-Frisco |
| Old Hickory Square | $500 off .5 month! | | | 2012 | D94-Frisco |
| Sovereign Preston Rd | 6 weeks free! | | | 2017 | D94-Frisco |
| Bell Lancaster and White Buffalo   | $1,000 off first month! | $1,519 | $2,566 | 2012 | FW0-Downtown |
| Lincoln Park at Trinity bluff | 1.5 month free! | $1,230 | $1,539 | 2006 | FW0-Downtown |
| The Lofts at West 7th I + II | $1,000 off first month! | $1,032 | $1,579 | 2009 | FW0-Downtown |
| Magnolia Lofts on Vickery | $500 off the first month! | $1,250 | | 2017 | FW1-Southeast |
| Magnolia at Mistletoe Heights | $750 off 1st month! | $1,099 | $1,999 | 2017 | FW2-Southwest |
| McCart | $300 off 1st month! | $715 | | 1972 | FW2-Southwest |
| The Estates at Trinity | $1,000 off 1st month! | $2,130 | $3,840 | 2014 | FW2-Southwest |
| The Monarch | .5 month free! | $1,115 | $1,790 | 2017 | FW2-Southwest |
| Elan River District | 1 month free! | $947 | $1,745 | 2017 | FW3-West |
| The Flats at Alta Leftbank | 1 month free! | | | 2017 | FW3-West |