Just got the dream job at Garter in Irving? Next step, housing!
Use our Gartner RECOMMENDED service to quickly find your perfect apartment. We are a 100% Free service. We will save you time and reduce your stress!
Let's start with exploring the areas nearby your new office!
AREAS NEAR Garter Irving to EXPLORE
There are 3 "hot spot" areas that young professionals enjoy living in:   Addison – Uptown Dallas – Las Colinas.   All three areas are perfect "young professional" friendly areas that have plenty to do during the day and at night.  These are also the most popular Hot Spots in general in the Dallas area for young professionals. All of them are options for Gartner new hires!
Las Colinas: This is literally right next to the Gartner HQ in Irving.  Many new hires enjoy hanging around this area because it is so convenient.  There are terrific choices for new hires there to live in. It's a clean and safe area with a great lake view too.
Addison: This is about 15 minutes northeast from the hq.  It has an amazing amount of restaurants and night spots. It also has some wonderful city wide events such as KaboomTown (4th of July), Oktoberfest and more.  Addison is very spread out but still has a great professional feel.
Uptown Dallas: This is easily the most popular area for new & recent university grads.  You can work in Uptown Dallas (right next to Downtown Dallas) and commute to Gartner…it is not a long commute because it's against traffic.   Living in Uptown Dallas offers you a truly amazing walkable experience with so much to do without needing a car.  We love helping new campus hires find out more about Uptown!
It's rather easy to get to Uptown as well. Your commute will take about 25 – 35 minutes. You will definitely want to investigate the Uptown lifestyle because it's just absolutely convenient and so packed with other new and recent grads.
Downtown Dallas:  Although it's not the most popular area of town, it's a very safe area overall. It's a great area if you want to live in an old style loft or explore some unique high rise communities. It's straight down the tollway just south of Uptown Dallas.
Homebase Services – Free, Fast and Time Saving! 
Sign up for our 100% Free-to-You Service to find your perfect apartment. It will save you hours of time and remove your stress. We serve new grads & young professionals moving to Dallas, Houston and Austin.   Free Signup: HERE   When you apply, you will also receive a free $100 Amazon card as well as a thank you for using our free service.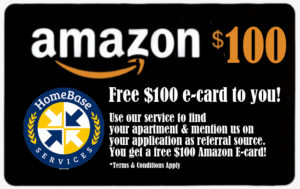 Our Free Apartment Service – How It Works
Below are just a few specific ways of how our  Locating service will help you:
We find rental availability in MINUTES.
Our apartments service is easy to use…and private!  You can trust your information is kept safe!
Our service gives you a private, FRIENDLY login so you can search 24/7 for your housing.
We provide a friendly, local person to help you for each city you are interested in.
Our service is QUICK! You can use our service to find exact availability in MINUTES to fit your move-in date and budget, even if your move in date  is up to 6 months away!  Just let us know your move-in date, budget and a few other details, and we will have a precise search done in a few minutes.
We help you meet other Alumni from your university in your new city and connect with your local alumni club.
Our apartments locating service is FREE!  We only ask that on your rental application that you mention Homebase Services as your referral source and then alert us!
Ready to begin? Start HERE
About: HomeBase Services is a member of the Southern Association of Colleges and Employers (SOACE). They are a licensed real estate broker for the State of Texas and their ownership has been serving Texas graduating professional for over 10 years.