THE AIR TOUR – The 100% Completely Virtual Apartment Tour Service – from Homebase Services
Welcome New Grads Moving to Dallas, Houston or Austin! You've gotten the wonderful Texas dream job with your employer. Now, time for housing!
As you move to start considering housing options this year, we'd like to invite you to consider using one of our two unique touring services to quickly and easily set up your full apartment tour! We explain how these work below!  You may also want to read our other article as well that contains suggestions for touring in light of Coronovirus.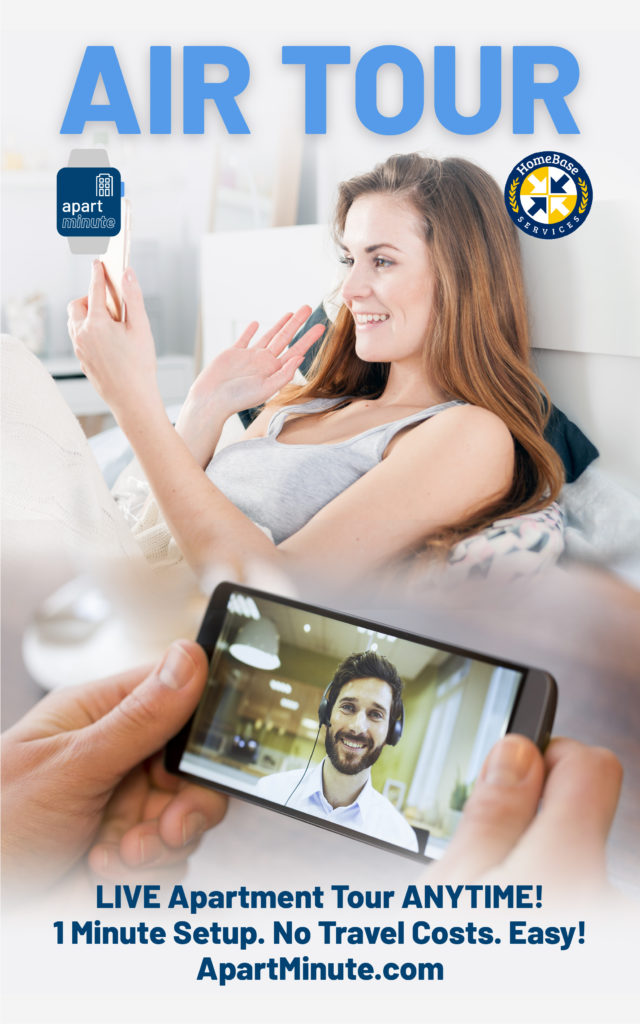 The AIR TOUR from Homebase Services – The fastest & Most Convenient way to tour Apartments!
Apartments are now open to more virtual solutions to touring. Where these were an option used only occasionally before, apartment will be actively pursuing these options in the next few months.
Good News: Homebase Services  has designed the fastest and most convenient way to tour multiple apartments:  The Air Tour  
The AIR TOUR makes lets you set up your apartment tour in as little as one minute.  And then to start the tour: All you need is your phone!
The new AIR TOUR Service is basically two parts: Scheduling and Touring.
Part 1 – SCHEDULING THE TOUR
The OLD SCHOOL WAY of touring is so tedious:   Pick a lot of places you want to tour.  Get on the phone and these places.   And then try to get ahold of someone on the phone that can set up your tour – not very easy!  Or you can try to reach them by email – good luck on even FINDING an email to use, much less getting a response!   The OLD WAY can take hours if not days to get this all coordinated between let's say 6 apartments you want to see on your tour. Ain't No One Got Time for That!
THE NEW WAY TO TOUR APARTMENTS: Use the ApartMinute website (or our Iphone App) from Homebase Services to set up your tour in ONE MINUTE!  Simply register and pick the apartments you want to tour. Then pick the day and times you want and press SCHEDULE – it's done!  ApartMinute does the rest and you get notified by email or app when it's all complete.    It's really that easy and quick !
Part 2 –  TOURING:  
The OLD SCHOOL WAY is to physically tour each apartment IN PERSON.   There's nothing wrong with that and we help with that all of the time!  But there is a cost on your part to make that happen, including: driving time, gas, flights to arrange, meals, etc.   And it's often not very convenient either.  Touring this way is STILL easier with ApartMINUTE.
The NEW SCHOOL WAY is to use our AIR TOUR! How does our AIR TOUR (Virtual Apartment Tour) work? 
ApartMinute notifies the apartments you want to AIR TOUR (instead of In Person).
Apartment prepares in advance for their part on your AIR TOUR.
You will hop on an APP a few minutes before the scheduled appointment to begin the FIRST property tour.
The leasing agent will STILL tour key amenities of the apartment.
The leasing agent will also show models and/or specific units of the apartment
The leasing agent will answer questions
The leasing agent will provide floorplan/pricing to the university hire (through email instead of in person)
Leave feedback
Prepare for the next tour!
Key Advantages of the Homebase AIR TOUR over the IN PERSON Tour:
ADVANTAGE: Tour appointments now required are quickly taken care of.
ADVANTAGE: The leasing agent is free to show both model homes and also inventory homes, which may not be possible in person at some residences. This allows more options to be available to university hires than an in-person tour.
ADVANTAGE:  Costs to fly/drive (and time involved) to each location are eliminated.
ADVANTAGE: Related costs such as hotel, etc are eliminated.
ADVANTAGE: This EXCEEDS all federal guidelines for the Coronavirus.  All risks are eliminated.
Further, we at Homebase are now working with Texas apartments to conduct a "standard virtual tour".  They are providing suggested guidelines and technology for apartments to use for safer in person touring and how to best carry out a satisfying virtual tour.  This is to provide a better and safer experience for university hires.
FOR FURTHER  ACTION & INFORMATION
University hires can sign up for the free AIR TOUR at ApartMinute.com .  The AIR TOUR Service goes live on on March 19 2020.  University hires are recommended to also complete the free housing request at Homebase Services in addition to signing up at ApartMinute. This will allow for Homebase to provide guidance on best properties to tour.
ADDITIONAL SUGGESTIONS for UNIVERSITY HIRES WHO USE VIRTUAL TOURING
Virtual touring has many advantages, including convenience, time savings and money savings.  However, to best take advantage of a virtual tour, we recommend these additional suggestions:
Download your APP to use for the tour 1 hour before the tour!
Make sure your leasing agent has sent you instructions on what app they are using to tour!
How Far In Advance to Request the Tour?:  Virtual tours can requested with 1 day advance notice. However, for weekend requests, we recommend that you put in the request 3 days in advance if possible.
Time Expected for Tour: A virtual tour should take about the same time as a In Person tour.  Usually that's about 30 minutes.
Be Patient: The leasing agent may not be used to giving a virtual tour.  Be patient with them as needed.
More Flexible Decision Deadline:  Since a virtual tour can happen within 24 hours of requested, this means you can make decisions more quickly and be ready for better fit apartment openings that might come up more quickly.
Apartment Specials Deadlines:  Leasing agents will sometimes offer special incentives to lease quickly to an in person-tour.  These are often tied to a decision timeframe.  Please make sure to ask on your virtual tour if any of these exist.
Keep it In Writing:  Please make sure your apartment needs are addressed in emails wherever possible to have a written document trail. These can be easy to address in person, but may be assumed but not clearly communicated if virtual.
Asking to See Specific Units OK:  The leasing agent should be able to show you specific units that look somewhat like your floorplan (as long as inventory exists). It may not be the same exact floorplan, but it should look similar.  It is ok to ask for and expect that during your virtual tour.