Congrats on the Houston Dream Career and welcome!   Are you moving to Uptown with friends? If so, this article is for you!
I'm writing the following to highlight FIVE of the best  apartments near the Inner Loop Houston area that also have 3 bedrooms (and 2 bedrooms) available.   Three bedrooms aren't easy to find! And good deals on three bedrooms are even tougher to find.  This article will take the work out of that and give you some local insight on several outstanding choices.   If you are looking for only TWO bedrooms, keep reading…these places are also great values for 2 bedroom apartments as well. 🙂
This article covers only FIVE in the Inner Loop. However, there are additional ones to consider that might also be a great fit. We've put together a detailed spreadsheet with excellent info of over 50+ apartments offering 3 bedrooms to consider.   If you'd like to get our in depth spreadsheet with more details, just ask!  Free SIGNUP
After you read our suggestions below, sign up for our 100% Free-to-You Service to find your perfect apartment. It will save you hours of time and remove your stress. We serve new grads & young professionals moving to Dallas, Houston and Austin.   Free Signup: HERE   When you apply, you will also receive a free $100 Amazon card as well as a thank you for using our free service.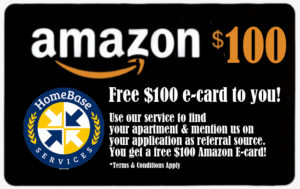 INNER LOOP WEST 3 BEDROOM APARTMENT CHOICES
Living in the Inner Loop  is always so fun and desirable for professionals! Many new grads love enjoying it together with other friends with a three bedroom apartment.  Below are some of the best three bedrooms in the Inner Loop areas including Downtown and the areas west of Downtown…with a varying range of prices to fit your budget! 🙂
AMLI 2121
AMLI 2121 : One of the best values in the Inner Loop is this hidden gem – the AMLI 2121!  The first thing you will notice about this is the excellent location! It's pretty close to Downtown, so your commute will be short. It's also in the hot West Inner Loop, which makes is super popular with recent grads.    But you will also notice it's just across the street from the Buffalo Bayou Trails!  This is several miles of great jogging, running and biking in the Inner Loop to help you de-stress and relax!    Then we get the apartment itself. It just makes you FEEL GOOD being inside of an apartment here! It's so light and bright, with a lot of glass and windows, for pure sunlight streaming in.
The AMLI 2121 features great views!  But it's also a high amenities type of apartment. It has the following key amenities that will make you feel like you are on vacation!:
TWO Resort style pools complete with private cabanas.
24 Hour Fitness Center – with strength training and cardio
Work from Home?  Use the 2 story club house and free coffee bar to office with other young professionals.
Park Views – there's no "city congestion" here.  You will totally get used to the water views.  Perfect place for "social distancing!!" 🙂
The AMLI 2121 has some exceptional pricing on 3 bedrooms, especially for how popular this area is! You can get a great 3 bedroom as low as $2400s.    Two bedrooms are moderately priced in the $1700s.   You can use our free EARLY BIRD ALERT system to be notified right when a 3 bedroom here becomes available.  The Early Bird Alert scans pricing each day and then notifies you of openings while you sleep – so you can get the best deals Make sure you are signed up for our unique Early Bird Alerts system! 🙂
SKYHOUSE HOUSTON
SKYHOUSE HOUSTON:  If you MUST have the high rise experience and the DREAM APARTMENT to go with your new Dream Job, then SKYHOUSE HOUSTON is your perfect new career home in Houston!  In a high rise, you should look for …and expect…some basic amenities and hopefully get delighted with additional ones!  The Skyhouse Downtown offers: state-of-the-art community and apartment amenities including a 24 HOUR CONCIERGE, Wi-Fi in all common areas, SkyDeck with expansive views of the Houston skyline, PRIVATE BALCONIES
in all homes, spa-style bathtubs, FLOOR TO CEILING WINDOWS…and close proximity to many downtown Houston attractions including Minute Maid Park, Metrorail, and much more.
| | | | |
| --- | --- | --- | --- |
| | | | |
If you work in downtown, then it makes sense to consider SkyHouse too for obvious reasons like you will have NO commute! Commuting in Houston can get lengthy if you are more than 2-4 miles away from downtown.  But with SkyHouse, you can pretty much walk to work!
Skyhouse has  3 bedrooms, but not many!   🙂  It's easy to set up a FUN tour to see this amazing high rise…just use our free ApartMinute app to set it up in one minute!  Price point: $3500s and up on 3s, $2400s on 2s.  Note: that price is BEFORE the specials of 6 weeks to 2 months free!  After the specials are applied, this really becomes a BARGAIN at under $3000 for 3 bedrooms and near $2100s for a 2 bedroom!  Skyhouse Houston is going to give you that experience you may only have once in your renting lifetime – so why think twice?
PEARL WASHINGTON
Pearl Washington:  Oh my goodness, any time you hear the name PEARL with apartments, pay attention! Pearl apartments in Houston are always EYE CANDY APARTMENTS!! They make you want to live in them. They look great and have super amenities.  And they are typically in the best areas of town too (typically Inner Loop West Houston).    The only problem is…most Pearl properties don't have 3 bedrooms!! 🙁
Well, we solved that problem by finding you not one by TWO Houston Pearl properties that have 3 bedrooms: Pearl Washington and Pearl 21 Eleven!   Pearl Washington is located in the Heights area of Houston. The Heights area is north of  Midtown/Montrose and also a great area of the Inner loop!  There's plenty of the "insider" feel of Houston nearby with great restaurants and night life. This is a popular young professionals area.
Here's just SOME of what is INSIDE your apartment: NOT TINY balcony, wood-style flooring, a contemporary kitchen with gourmet prep island and a stainless steel appliance package. You'll also have USB ports as well as full-size washers and dryers make life easier, with designer fixtures and hardware completing the upscale atmosphere.  It's going to make you FEEL GREAT inside here!
Three bedroom prices? also STUNNING – a great deal! Three Bedroom Prices start in the $2600s!    Two bedrooms start in the $2200s. This might be the perfect place for you if you want a little more privacy and a FEEL GOOD apartment to enjoy your young professional lifestyle.
The easiest way to get this great deal is to use our free Early Bird Alert system. How this works is: We check prices daily for all future openings at your favorite apartments – even if you have 50 favorite apartments!.  When an opening comes up that fits your move in date and budget…you get alerted by email! If you haven't signed up for the Early Bird Alert system, take care of that right now here:  Early Bird Free Sign Up
METRO MIDTOWN
Metro Midtown:  The key here is LOCATION!!  Metro Midtown is located in the very popular Midtown area.   Midtown has so much fun to walk to!  It's also just south west of Downtown, directly connected to it – so you have super quick access to work and not much of a commute really.  If you want a location that you can pretty much walk to most everything, you will find it here at Metro Midtown. 
| | | | |
| --- | --- | --- | --- |
| | Metro Midtown | Metro Midtown | |
Metro Midtown has an attractive apartment too! It's more of a "warm" feeling here…it's not cold and modern.  Beautiful hardwood floors, cute kitchens with great space and great space for the money too.   If you want an apartment where you can pay a moderate price but be in one of the top 3 areas of town, this is your apartment!   Their three bedrooms start in the $2400s – so $800 per person, so affordable!  And 2 bedrooms are also great deals, as low as $1700s! Sign up for our free Early Bird Alerts to get notified of openings even months in advance…we make it easy, so you can relax!
MEMORIAL HEIGHTS AT WASHINGTON
Memorial Heights at Washington:  If you find yourself a bit cash strapped …or maybe you like the frugal side of life to be able to retire in your 40s!…but still want to live in the Inner Loop, then you might want to consider the Memorial Heights at Washington.  It's going to give you a FANTASTIC location and an admittedly average apartment.   The Memorial Heights is just south of the famous Wash Ave area full of night life and restaurants. It's a very high social scene with a lot of places to try.    To the south only a few blocks away… you have the Bayou Trails I've mentioned previously. These are those great hike bike trails.   And you are close to downtown too.

The apartment itself is very basic. It's basically your apartment with few amenities except a pool. However, you also get one of the best rent deals in Houston's Inner Loop with a three bedroom starting in the $2000s!  That's about $670 a person!  You can get a 2 bedroom here in the $1600s or possibly under.
Next Step – SO Easy!
We have a detailed spreadsheet that we can send your way for these 5 apartments…plus FIFTY other apartments with 3 bedrooms in Houston!  The spreadsheet will give you great inside information on them all!  Just ask me for that here: Free Signup for the the 50+ Spreadsheet
Would you like to find out more inside info about one of the apartments here, to see which fits you best? Or, would you like to find out more apartments to check out and maybe tour?   Sign up for FREE Service and Early Bird Alerts HERE: Free Signup 
READ MORE TIPS BELOW !
GOT THE FULL TIME DREAM JOB? Next Step, HOUSING. 
When you get that full time offer for Houston, Dallas or Austin, Homebase Services would love to help you find your perfect new apartment. Our service is 100% Free and super quick!
And you can use our new & free ApartMinute APP to set up your apartment tour in as little as one minute! Download the 100% Free ApartMinute App here: ApartMinute Iphone App 
If you are on Android, simply use our website to sign up:  ApartMinute Android Signup