If you are graduating and moving to a big city for your new career, this article is for you.   And parents of grads, you are welcome to read too, come aboard. 🙂
This article highlights important differences between renting in a college town and renting in your new career city.  Knowing these differences will save you money and help speed up your search for housing in your new city.  And also reduce your stress.
After you read our suggestions below, sign up for our 100% Free-to-You Service to find your perfect apartment. It will save you hours of time and remove your stress. We serve new grads & young professionals moving to Dallas, Houston and Austin.   Free Signup: HERE   When you apply, you will also receive a free $100 Amazon card as well as a thank you for using our free service.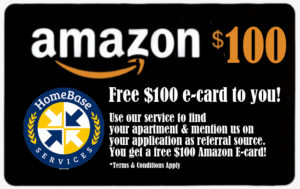 SUMMER vs. OFF SEASON RENT PRICING – BIG DIFFERENCES!
If you read ONLY one thing in this article, make sure to read this point carefully!  In college apartments, pricing is the same no matter what season your lease starts (which is typically in the fall). In other words, you can apply any month in the year, and your rent price would be the same pretty much.
HUGE difference for the big city apartment! Did you know that summer start dates for a big city apartment mean you pay 10% or more higher RENT than starting your apartment in other months?  That's a big difference!
So if your job starts in June, July or August, is there anything you can do to get those lower prices?  YES, there is!  Apartments in the "big city" will let you apply as early as 3-6 months in advance…as long as there is a specific apartment open for your move in date.  If you apply in the off months, you will often pay a lower price on the apartment rent!
But those that wait until shortly before their move in date will pay the higher "summer prices."  So the point is: Apply early to get better deals!
Here's an example:  Let's say it's January. And your new job starts in June!   Many apartments will let you apply in March or earlier for a June move in date.  So, you apply in March  but for starting your lease in June.  Doing that will often get you that off season lower price.
College Rent Prices vs. Big City Rent Prices: How Often do they Change?
In or near campus, rent pretty much stays the same throughout the whole year!  You can call an apartment near campus in September and then later in January, and the price of the apartment you are looking for is probably the same price both times!  Rent is very stable in college towns.
However, in big cities, apartment rent often changes DAILY! That's right…I said daily. The same apartment could be $100 – $200 different on the price if you called a week later.  It could be $100 higher or $30 lower!
So, what a big city apartment will do is typically give you a QUOTE on an apartment you are interested in. The quote will hold the price for typically 48 hours so you can decide if you want to rent it .
RENT SPECIALS like FIRST MONTH FREE!
In college apartments, there is often not much if any "rent" special. The price is the price and there's no negotiation because demand is high.
With Big city apartments, many apartment buildings cater to new grads.  They will offer specials like FIRST MONTH RENT FREE for a 12+ month lease!  That is just cool in SOOO many ways!  First, everyone likes free!   Second, it's typically NEWER places that offer the first month rent free. That's because they want to fill their apartment buildings with great tenants like you.   Third, in the case of first month rent free, if you haven't started work, you won't have to pay rent for a while until the first month is over! 🙂
Our Homebase team keeps a list (updated weekly) of recently built apartments offering 1 month free in Dallas, Houston or Austin.  And it's free, so go get it!
SIGN A LEASE vs APPLYING
With college housing, when you see something you like, you are encouraged to go ahead and SIGN A LEASE right away. That's even if the start date of your apartment  is 6-10 months away!  So, you are locked into a lease way before you move in for a college apartment.  And, you apply, get approved AND sign a lease, all in ONE STEP!
With a big city apartment, you get APPROVED first.  They don't make you sign a lease at first.  So, you when you apply, the goal here is to simply get approved CREDIT wise.    Once you get approved, the apartment you applied for is LOCKED DOWN. But you personally are NOT locked down until you have signed a lease!
Once you are approved, you will be asked LATER to sign a lease…but sometimes that's not until much later!  Many  apartments (not all) will even let you wait until the day before you move in to ask you to sign a lease.
HOW MUCH MONEY  DO I NEED BEFORE MOVE IN (Deposits, etc)?
With college housing, there's typically a much larger fee required for the deposit and fees! It can be as much as 1 months rent with fees on top of that.  If you are a parent reading this article, THANK YOU for helping out on this one!! 🙂
With a big city apartment, the fees are actually MUCH SMALLER!   There are typically about $200 or so in fees.  And then the deposit can be as little as $200!  So for a one bedroom apartment, the total fees including a deposit might be as low as $350!  That's great news when you have a great offer waiting but haven't started your job …and so the first couple of checks aren't flowing into your account yet!
INDIVIDUAL LEASE VS FULL APARTMENT LEASE
College Apartments differ in the types of leases. Some college places will allow each individual student to sign a lease and then be just liable for only their portion of the rent, even if they are living with 3 other roommates in the same apartment.
With big city apartments, each resident is liable for the WHOLE lease cost – including rent, monthly fees like garbage, etc.  So, if you have 2 other roommates in your lease, you are liable for their costs also, not just your own!  Please choose your roommates carefully. (and consult a lawyer if needed before you sign a lease).
WHEN DO YOU START LOOKING?
With college apartments, you often have to start looking the year before and then SIGN A LEASE way in advance, up to 10-12 months before! The good apartments or DORMS fill up quick!  And everyone moves out at the same time. So the apartments can easily predict a year in advance and let you reserve far out.
With most big city apartments, you really can't sign a lease or reserve your place until 3-6 months max in advance.   That doesn't mean you can't start looking for your place even 1 year in advance! it just means you can't reserve an actual apartment (apply for it) until about 3-6 months in advance.
TYPES OF ROOMS AVAILABLE
In college apartments, it's pretty easy to get a 3, 4 or even 5 bedroom apartment! Fun times yall!
In big city apartments, those pretty much don't exist. Most apartment buildings have 1 and 2  bedroom apartments. A small percentage have 3 bedroom apartments. Those 3 bedrooms are always in huge demand!!
CREDIT NEEDED – IMPORTANT!
For a college apartment, you often need a parent to co-sign on the lease! Hey, you are in college…income isn't there right now! 🙂
For a big city apartment, you DO need a job to get approved. However, you often do NOT need much credit!   If you don't have much credit, please do NOT worry. Many apartments will take the offer letter from your new career company as good enough proof of your credit!  So, no need to stress!
WIFI AND FURNITURE INCLUDED?
For college apartments, they often include basic furniture in all rooms! Much of the time, you only bring your bed, clothes and decorations. WiFi is also included, how nice!
For big city apartments, FURNITURE NOT INCLUDED. None!  So you will have to go pick up some furniture for your new place.  However, it's not daunting like it sounds and it doesn't have to be pricey either!  IKea is a great source for inexpensive new furniture.  And how about used furniture?  There are a lot of local Facebook groups where you can pick up super cheap used furniture at 20-50% of original cost!
And, Wi FI included? Not so much, unfortunately. Time to pony up for AT&T, Verizon or another service.  A decent speed usually starts around $75 a month.
READ MORE TIPS BELOW !