Congrats on the Dallas Dream Career and welcome!   Are you moving to Uptown with friends? If so, this article is for you!
I'm writing the following to highlight some of the best  apartments near Downtown Dallas that also have 3 bedrooms and 2 bedrooms available.   Three bedrooms aren't easy to find! This article will take the work out of that and give you some local insight on several outstanding choices.   However, all of these apartments also offer great 2 bedrooms as well!!
This article is divided into 2 parts! Part 1 covers great 3 bedrooms in Uptown Dallas.  Part 2 covers 3 bedrooms that are nearby Uptown and north of it.
PART 1: UPTOWN  DALLAS 3 BEDROOM APARTMENT CHOICES
Living in Uptown Dallas is always so fun and desirable! Many new grads love enjoying it together with other friends with a three bedroom apartment.  Below are some of the best three bedrooms in Uptown Dallas area, with a varying range of prices to fit your budget! 🙂
After you read our suggestions below, sign up for our 100% Free-to-You Service to find your perfect apartment. It will save you hours of time and remove your stress. We serve new grads & young professionals moving to Dallas, Houston and Austin.   Free Signup: HERE   When you apply, you will also receive a free $100 Amazon card as well as a thank you for using our free service.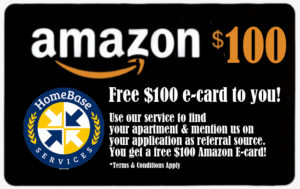 SKYE AT TURTLE CREEK
SKYE AT TURTLE CREEK : One of the best values in Uptown is this hidden gem – the Skye of Turtle Creek!  The first thing you will notice about this is the excellent location! It's just north of Victory Park and in walking distance to McKinney Avenue.  Even better, it's set back a bit from noise, and has a very exclusive, private feel.  It's also directly connected to the Katy Trail, a 3.8 mile running trail that's massively popular in Dallas.  Stressed? Just hop on the trail in minutes and jog that stress away in minutes!   Finally, it's near the Tollway, so you can JET to either airport or to local clients super quickly, without congestion.  VERY convenient!
The Skye features great views – this is a true high rise!  It's also a high amenities type of apartment. It has the following key amenities:
24/7 Concierge: HUGELY convenient  while you are on the road, picking up packages, and for safety!
Convenience store ON SITE: The first floor, steps out of the elevator, features a wonderful convenience store for essentials like milk, cereal and of course wine! 🙂
THICK Concrete Floors: The flooring here is super thick. It was built with massively thick concrete. So, you can't hear your neighbors!
Great Neighbors: The Skye tends to have fantastic, discerning tenants.
The Skye was recently re-modeled and has a beautiful modern feel.  It's light and bright with many windows too.  The Skye is an excellent value to consider.  Two bedrooms are moderately priced.  Three bedrooms are well priced too but they go very quickly!!!  The Skye is a hidden gem to consider! Excellent for a more private experience yet close to everything fun. Price point: $2800s and up on 3s, $2000s on 2s. You can use our free EARLY BIRD ALERT system to be notified right when a 3 bedroom here (or anywhere else!) becomes available. Make sure you are signed up for it! 🙂
VICTORY PLACE
VICTORY PLACE:  Would you like to walk outside your door and walk to a concert or basketball game in minutes?  Then the  Victory Place might be a perfect choice for you. It's light, bright and just beautiful. It's the type of place that when you walk inside, you just feel better, more alive and more excited about coming home!
Victory Place is a recently built residence in Victory Park. It features some of the best amenities in Dallas, such as a rooftop pool and relaxation area, superb gym, and all of the fun features that SHOULD be a in high rise.  And oh, yes, then there's the beautiful rooms! They have a soft loft feel, with gorgeous hardwoods, beautiful kitchens and more. Key feature: 3 bed, 3 BATH options available here! 🙂  VP also has had a ONE MONTH FREE RENT special for awhile to make it even sweeter here! 🙂
Victory Place is EXTREMELY popular for 3 bedrooms, but they hardly ever become available!!   This is also a fantastic 2 bedroom choice too. It's been a top 3 choice by our clients for the last 2 years.   It's easy to set up a FUN tour to see this amazing high rise…just use our free ApartMinute app to set it up in one minute!  Price point: $3100s and up on 3s, $2200s on 2s.
TAYLOR UPTOWN
Taylor Uptown: This is a modern and very sophisticated high rise residence near the West Village!  Many places in Uptown will say the offer a "resort experience" but the Taylor Uptown really does!  They have a lot of fun things to explore in the building like their Gaming Area, multiple "hang out" zones, immaculate pool and the interior dog park.  This would be an amazing place to choose if you do a significant portion of work from home!
| | | | |
| --- | --- | --- | --- |
| Taylor Uptown Terrace | | | |
The location also stands out!!  Right across the street is the Katy Trail!  And walk about 4 minutes and you are having lunch at the Village Burger Bar in the West Village of Uptown! 🙂   You can also use the free Trolley to get to most key places in Uptown, just hop on!!!
But I also love how it feels a little excluded, so you are not right next to a lot of noise. This is like being in the best of all worlds…have the fun when you want, but the relaxation when you want too.     Price point: $3200s and up on 3s, $2400s and up on 2s.
ST JAMES
St James:  Located in the Pearl area of Uptown, this has a great "safe" vibe.   It's on a key block of Uptown that features 2 other very expensive high rise apartment buildings. Yet, it has more of a moderate price in comparison.    What I also like about St James is that you can walk in about 5 minutes to McKinney Avenue and in just 2-3 of minutes to boutique shops. It's close to everything in walking distance.
The St James was recently renovated and the rooms are beautiful!  They feel intimate and "at home" rather than super modern.  The three bedrooms here are actually in a separate building across the street from the main buildings.  They rarely become available but when they do, they get leased quickly.    Price point for 3s: $2700s and up, $1800s and up on 2s.
Here's are two other 3 Bedroom options in Uptown that are worth checking out too, but a bit pricey!!:  Modera Howell (new and beautiful!) –   28 Twenty Eight
MODERA UPTOWN
Modera Uptown:  Just recently complete, and in a fantastic "inner secret" area of Uptown, you might also consider the Modera! It's just plain stunning in almost every detail!   This is the kind of place if you are a bit budget sensitive….then don't visit in person. You will fall in love with it!  Perfectly beautiful kitchens with huge stainless steel appliances, goose neck adjustable washing sinks, premium cabinets and more.
The community amenities are pretty elite! The 6th floor lounge gives you 270 degree sweeping views of Uptown through glass. The clubhouse has a delightful social area and coffee bar. And let's not forget the high tech fitness center with Spin/Flex Studio!
And walk outside your door!  You will be able to quickly walk to the truly cool attractions of Uptown…the ones that are NOT on McKinney Avenue!  McKinney avenue is great for the tourists, but when you live in Uptown, you want to hang with locals. You will have plenty of great places to do that here, all in walking distance!  Price point for 3s: $3500s and up, $2500s and up on 2s.
PART 2:  NEAR UPTOWN THREE BEDROOM ALTERNATIVES
There are plenty of great apartments that are in other areas nearby Uptown.  Dallas is a big city and there are many great neighborhoods to explore in addition to Uptown.  Part 2 covers some of the best choices for 3 bedrooms in the areas west, north and east of Uptown.  This is going to be a little bit shorter writeup of each choice, but I think you will quickly get the advantage of each choice below!
B & F FLATS : B & F Flats has the "it" factor. It's located in the cool and trendy Lower Greenville area. This is where some of the best night life and live music is in Dallas.   It's also super handy to get to Uptown, Knox Henderson and some of the other great areas of Dallas.  Young professionals love this place, big time.   3 bedrooms start here around $3400, but sometimes they have a special to reduce it.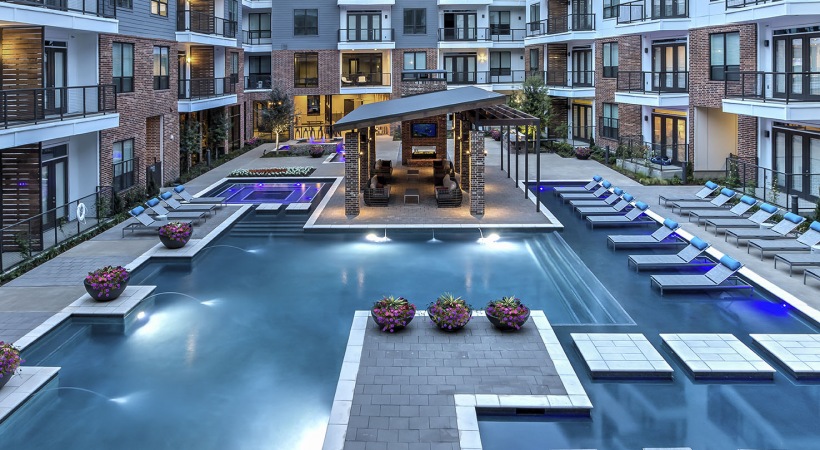 1001 Ross:  Located in Downtown, 1001 Ross: is walking distance to the Dallas Aquarium (a popular attraction here) and to some great restaurants and night spots in the very walkable West End.  It's a pretty good apartment community with a brick soft loft style.  The location is super close to Uptown and it's also on the edge of Downtown, so it's easy to get out of Downtown for work and not be in congestion.  But best of all, they have some VERY moderate prices on their 3 bedrooms lofts!  1001 Ross is on our Early Bird Alerts system too, so you can get instantly notified when an option is open!  You can get one as low as $2300 if you time it right!
Alta Trinity Green /Yorktown Trinity Groves – These are 2 recently built choices in the Up and Coming Trinity Groves area. This area is just west of Downtown and is like a Mini Uptown! It's got shops and restaurants to enjoy in walking distance. But it also has the fantastic Margaret Hunt Hill bridge with a RUNNING TRAIL right by it…think about how fun it would be to take a run over the water anytime right next to the bridge!    You can get 3 bedrooms here for as low as $2400s and they have pretty much everything included!
One Dallas Center – This is a Super choice for the Downtown area if you need the convenience of being in Downtown for work.  This is a modern building but with a charming interior.   Three bedrooms start about $3,000 a month here.
Hanover Midtown/The Nash – Located just north of Midtown, these are 2 great recently built apartments with "everything included!". They are beautiful!  They also happen to be across the street from each other, so it's easy to check them both out at the same time.  We've had great feedback on both of these, with the Hanover being preferred.  Three bedrooms here start around $2200 a month.
THE VILLAGE (multiple choices) – The Village is a community with 12 different apartment communities that share fantastic amenities. It's located in Midtown Dallas, so it's a quick drive to Downtown, Uptown or to the airport.   This is GREAT area with fantastic amenities and has more of a neighborhood feel !  But even better…the Village has just broken the bank with a new 126 MILLION dollar Main Street entertainment area that all residents will enjoy.
There are actually several 3 bedroom choices here in the Village, including:
For more info on three bedrooms, schedule a free call anytime! PICK A TIME
READ MORE TIPS BELOW !
GOT THE FULL TIME DREAM JOB? Next Step, HOUSING. 
When you get that full time offer for Houston, Dallas or Austin, Homebase Services would love to help you find your perfect new apartment. Our service is 100% Free and super quick!
And you can use our new & free ApartMinute APP to set up your apartment tour in as little as one minute! Download the 100% Free ApartMinute App here: ApartMinute Iphone App 
If you are on Android, simply use our website to sign up:  ApartMinute Android Signup