POPULAR HOUSTON AREAS FOR EY HOUSTON NEW HIRES
Hi EY Houston full time hires and congrats on your full time offer. You will be starting with an amazing company! This is Grant from Homebase Services.  We've helped thousands of graduating students find their first apartment in Houston, Dallas and Austin.
We get a lot of questions each year about things like best timing, things to look for and best areas of town. I'm writing this article to answer questions on how to find your perfect place, save time and keep stress low.  This will save you time!  So, let's begin.
After you read our suggestions below, sign up for our 100% Free-to-You Service to find your perfect apartment. It will save you hours of time and remove your stress. We serve new grads & young professionals moving to Dallas, Houston and Austin.   Free Signup: HERE   When you apply for your new apartment, you will also receive a free $100 Amazon card as well as a thank you for using our free service.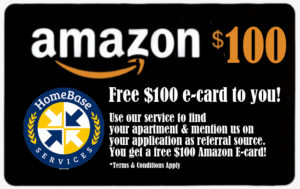 BEST TIME TO START YOUR SEARCH? 
Great question!! This is really up to you! It really depends on when you have received your career offer for EY!  You don't have to wait until a couple of months before your EY start date.  You can start your search up to one year in advance of that start date, and sometimes get a better deal in the process!
Now, unlike university housing, where you can actually reserve & sign a lease for your new place even 9-12 months in advance…you can't actually do that in your new career city!   You will need to adjust your timing more into the 2-6 months time period for actually signing a lease. But that doesn't mean you can't start looking and narrow it down before that point!!!
You may also have a lot going on right now after you have received an offer…and don't want to get into huge search mode. For example, what if you have some huge responsibilities right now or need a certification test  (CPA, etc) passed?  Or you have accepted a EY offer next year but aren't yet sure of your start date.   In these cases: Go ahead and get started with some starting information from us to set up a good timeline to act. …then wait to do the serious part of your search until after you have your other stuff taken care of. taken your certification test or actually have your start date for your career.
Bottom line: You can start looking as soon as you get your offer, up to 12 months in advance of your start date. Or if you are sure you are moving to a new city even before you have the offer, start then.  But you may want to carry out your search in manageable stages that make sense, to better manage your time (and reduce stress!).
OK I'M READY TO START LOOKING. What's my NEXT STEPS?
So what can you do if there aren't housing openings yet in your new city, but you want to start looking?  PLENTY!!! Here are some great ways to begin!
ONE – PICK YOUR FAVORITE AREA NEAR the EY Houston Office! 
So you are moving to a new city, and it's a lot bigger than your university surroundings. So it's important to figure out the best areas or neighborhoods that would work best for you.  Best Areas of town are constantly changing in each town!  New areas spring up, while other areas become run down or even unsafe.  It's super important to use very current information when picking your area.  Consult with a relocation consultant on our team – it's free! And also ask friends that have RECENTLY graduated and moved there.
Here are some of the exciting areas to consider near the Downtown Houston EY office on Houston Center:
The Inner Loop, particularly the areas WEST of Downtown Houston, are where new university grads and recent grads hang out and live.  They live there for a couple of main reasons:
More to do in quick driving distance…you have tons of great shops, restaurants, events, professional sports events and night spots nearby. The area caters to young professionals big time!
Close to work = shorter commute!  Houston is big and morning/evening traffic can be long at times.  The closer you can be to work, the better, to keep your commute shorter.
Some of the most popular areas for grads in the Houston Inner Loop are (see our MAP below for more details!):
NOTE:  All of the photos and graphics below are OUR OWN! We wanted you to see the absolute best of Houston! 🙂
Midtown Houston – This very popular Inner Loop area is just southwest of Downtown Dallas. It's convenient to get to work and full of great shops and restaurants to walk to.  It's full of recent grads.   If you want to meet other recent grads, you can't go wrong living in this area.   You will find great recently built Houston apartments here…primarily mid rises. The restaurants and night spots are plentiful here. It is 5 minutes from most of Houston's key freeways.  Midtown Houston is GREAT!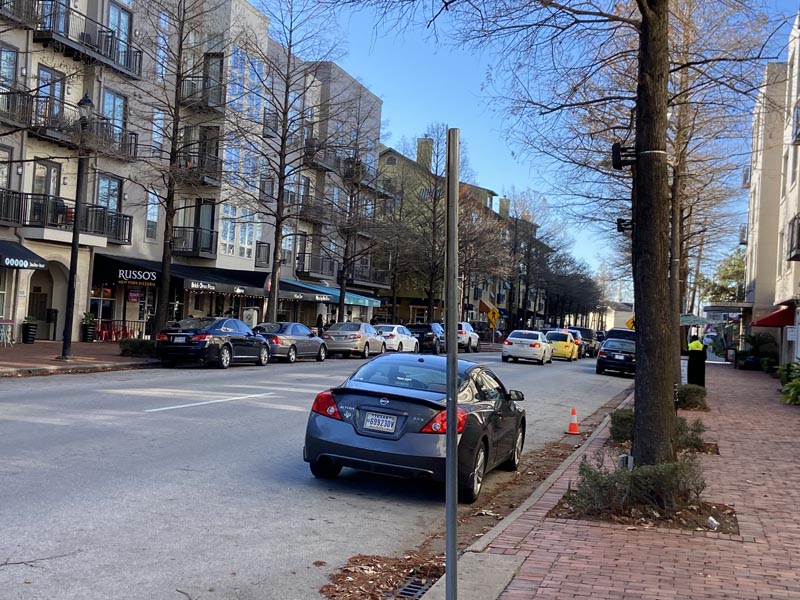 Montrose Houston – This awesome area is just west of Downtown Houston. This is a highly popular and very walkable neighborhood in Houston. There are plenty of restaurants, night spots, coffee shops, and boutiques within walking distance. The neighborhood is super fun and distinct.  Art  and music lovers enjoy this area. There's a wider range of people in this area, including experienced professionals.   There are plenty of beautiful recently built apartments here too.  One AWESOME feature of this area is the closeness to the BAYOU TRAILS! This is a park and trail system with almost endless running trails!  See map below for more details and attractions nearby.
Downtown Houston –  EY Houston is located  in Downtown Houston. Downtown Houston is also where many of the OTHER firms that the grads that we help are located. For convenience and quick access to the great events and sports in Houston, some professionals choose to live here!  Having no commute for work (walk to work!) and not having to pay downtown parking costs for work are 2 great additional reasons for living here.  There are primarily high rises and old loft style apartments here.  Most places are more expensive here, but there are a few good options for bargain shoppers! 
Rice U Houston – This DELIGHTFUL, smaller area is southwest of Downtown Houston.  It's a shopper's paradise! The area features the extremely popular Rice Village shopping area with over 300 eclectic shops and plenty of restaurants. The area features a quick commute to downtown Houston as well. It's small and intimate.  I LOVE THIS AREA!  Even if you don't live here, you need to visit!!
Rice Military Area – Rice Military Houston is a fun neighborhood with a high walkable score. It has numerous parks with many beautiful trees…and great hiking and biking trails! It also includes easy access to Downtown, Montrose and the Galleria.  This is a GREAT choice for young professionals. It's more chill than other areas and very green!
The Heights : This area is still in the popular and safe areas of West Inner Loop Houston. But it's a bit more north. It's a little less frenetic, more chill in this area.  There isn't as much housing here but there are some attractive options to consider.
EADO Houston (East Downtown Houston): This is a revitalized area that's east of Downtown. While a few years ago, this wouldn't have made the list for recommended areas…it's definitely an area to consider now! J  There's a lot of great development, new apartments, and great attractions are here now too. And it's super quick to get to Downtown of course!  You might put EADO on your list to compare options in this growing area.
Galleria Houston – This area is the most WEST of all of the areas we mention here. It's an area that is right on the edge of the Inner Loop.  This is a good choice for living in if you want to still be in the Inner Loop but maybe need to travel frequently throughout Houston for clients.  More than 700 retailers, fine dining, sports, and hotels sit within two square miles. Inside Texas' largest shopping mall, the Galleria, more than 375 stores, two hotels, an ice rink and endless food options make it a popular destination. Pricing here for apartments are good too.
Medical District: The Medical District is a convenient area that is southwest of Downtown.  It is of course known for medical facilities and hospitals. But it's also a great place to consider getting your next apartment. The area is super convenient to get around to other areas and the housing here tends to be a good value.  The Bayou Trails (see below) also run through here. 
Memorial Park: This is a super green area in the west tip of the Inner Loop. It features a huge park and running trails (see below).  This is a very luxurious area, so apartments here are very desirable!  If you like nature, fitness and instant fun every weekend, this might be your perfect area.
POPULAR FEATURES & ATTRACTIONS
As you are looking at those areas to see which fits you best, you might also consider a few key popular features & attractions in the Inner Loop…and where these in relation to those areas!  Some of these features may be HUGE to you, while others may not be a big deal:
Memorial Park Trails – This is a HUGE set of running/biking/hiking trails that starts in Memorial Park, on the tip of the west part of the Inner Loop.  This set of trails is 10 miles long and it goes all the way to Downtown!   This hits the Memorial area, the Wash Ave area and Downtown.  This is so fun to live near! Avoid traffic too, bike it to the fun!
Bayou Trails – This is another large set of biking/running trails more in the South area of the West Inner Loop. It starts in the Southwest Inner Loop and goes through the Medical Area.   Get your bike out or blades and check this out!
MetroRail – Houston has its own rail system and it's quick and fun to use.  It's great mostly for getting to Downtown from a few key areas close to Downtown, like Midtown in particular. Also covers EaDo, Museum District and Medical District and a line also goes north too.
Sports Sports Sports! – Yes, it's fun to go to the Houston Texans games and we are competitive lately! J  And the Houston Rockets are ALWAYS fun to watch, with "THE BEARD" and past championships.  The Houston Astros can also be seen nearby.  The Rockets and Astros are Downtown based. So if sports is a major focus, you might live in Midtown or super close by (EADO, Downtown) to get to those games!  The Texans play in NRG Stadium and that's more SouthWest Inner Loop and only Sundays typically, so no need to locate right by there! J
Museum District – For those of us who love the Arts, I've got good news…you are going to LOVE Houston!  You should consider living in the Museum District to experience over 19 museums.  This is a great area to live in!
Find out more about these areas when you order our free playing cards:  Inner Loop Houston Free Playing Cards Deck
How to Pick Your Best Area in 10 minutes!!
For EY Houston new hires, you can sign up for our Free New City Orientation Call. This is a one on one call to  give you a great overview of your new city and the most popular areas for new and recent grads. You can ask questions and get personalized advice. Super valuable and highly recommended!  Also, here is a super quick list of popular neighborhoods for Houston, Dallas and Austin: Popular Texas Neighborhoods for New Grads .  
You can also pick up a free deck of our new city playing cards! These are a full deck of poker style playing cards for your new city.    We've got one for Inner Loop Houston too! This is a great way to get to know your new city! We will ship one deck to you for free.
TWO – DECIDE YOUR BUDGET!
Housing in your new city is typically going to cost a bit more than your college situation! 🙂  But the good news is, you will be making some great money in your new career to pay for it.   Apartments in your new city are going to require that your rent be no more than 3X or 3.5X of your GROSS monthly income. So for example, if your gross income is $5,000 a month, then take that and divide it by 3. $1667 in this case That should be your max monthly rent to shoot for, and it's ok to go under that amount!
THREE – DECIDE IF YOU WANT A ROOMMATE!
Getting a roommate is a personal decision. Sometimes if you have roommates throughout your university career, then you might be tired of this and want to explore the pleasure of not having to share the coffee machine or see other people's dirty clothes!  But for others, it's more exciting to share the adventure of a new city with another similar colleague! Another great benefit about having a roommate is that you can typically afford a better part of town!!  Two bedrooms in Houston are less expensive per person than one bedrooms. Three bedrooms are even less per person!  Typically about 30% of university grads pick a roommate for their new city!
IF you are going to do a roommate, get moving quick on this because it affects the rest of your search big time!  Here are a few things you can do to find your roommate:
FOUR: PICK SOME FAVORITE APARTMENTS!  Now it's time to find some great apartments to choose from in your new career city.  Your goal of this step is to GET 4-6 favorite apartments!! So how do you choose from literally thousands of choices??? We help do this all the time, and here are some of best tips we have over the years to SAVE YOU TIME! 🙂
IT'S TIME TO TOUR!!
Ok, now that you have your favorites, it's time to tour them! So when should you tour? GOOD Question, because timing is everything! Here are a few helpful tips that will save you time and reduce stress greatly!!
BOOKING THE TOUR EASILY & QUICKLY
One of the biggest hassles of setting up a tour is actually booking the times with multiple apartments and their leasing agents! It's usually so difficult to reach a leasing agent by phone or email.  Then, figuring out a time that works with your schedule and their is also a hassle.  In addition, apartments have certain set hours and days that are available and they may not fit your schedule.   And then multiple all of this by 4-6 apartments you might want to see.   This can take days if not weeks to complete!
Instead, use our new free ApartMinute patented system to book your tour!  Why? You can literally book your entire tour in as little as ONE Minute! Just pick the date, then select available times for each apartment…and then book your tour! Voila, it's done.  🙂   You can make changes and add properties instantly at any time!
If you get the Iphone App for ApartMinute, it will also help navigate you to each tour. And then use the App to rate each property and score it…and then you have an easy comparison on your phone to all properties you are seeing.   ApartMinute App  
GETTING THE BEST RENT DEAL!
In your university town, rent prices don't change much…maybe 1x or 2x a year! However, in your new city, rent prices are fluctuating often DAILY. So, the date that you want to move in is a hugely important factor in determining your rent. Your rent can be higher if you apply to rent one day, and lower if you apply another day.
Also, rent fluctuates big time depending on the TIME OF YEAR that you rent!  For example, did you know that rent in the summer months can be 10-20% higher than rent where your lease starts in the winter months?  Wow, something huge to consider!
One of our best tips to help you save money is to APPLY EARLY to your place, especially if you need to move in during the summer. This can literally save you thousands of dollars each year!   Apartments will let you apply as early as they have availability that matches your start date.  For example, if you apply in March for a July move in, you will typically save a nice amount of money and get lower rent!
Another interesting thing we notice that we mentioned earlier: Newer places will offer a free rent incentive (1 month free, etc).  They tend to offer more of these in the OFF months, and less in the months of June – August!  So, if possible, you will get the best deal if you apply in the off months for your lease to start in the Summer months!
One more money saving tip:  If you live in the same area as your new employer, a good portion of newer apartments in that area will offer a PREFERRED EMPLOYER program. This won't mean lower rent! However, it will mean a reduction in the fees you need to apply. For example, it could cut the total money you need to apply in HALF!  So, always ask if the apartment has a preferred employer program!
And one more good tip to know:  For your current housing, you will often need to come up with 1-2 months of a deposit for your new place. However, in your new city for an apartment, you will only typically need about $400 per person total, including deposit. This can vary based on your new place.
You can use our EARLY BIRD ALERT system mentioned above to be notified asap on the best deal.
READ MORE TIPS BELOW !
GOT THE FULL TIME DREAM JOB? Next Step, HOUSING!! 
When you get that full time offer for Houston, Dallas or Austin, Homebase Services would love to help you find your perfect new apartment. Our service is 100% Free and super quick!  And you can use our new & free ApartMinute APP to set up your apartment tour in as little as one minute!