Uptown Dallas Playing Cards – Free for Students Moving to Dallas!
Hi and welcome to Dallas!  If you are moving to Dallas in the next 12 months, we'd like to invite you to receive a free Uptown Dallas  Playing Cards deck!  This specially designed playing card deck contains 54 of the best features and places in Uptown.
You can use this deck for any standard card game and to get to know Uptown Dallas, including great features such as: The West Village, Victory Park, the free Uptown Trolley, Breadwinners, and more!
Best news of all: If you are graduating in the next 12 months and moving to Uptown, you will receive this deck FREE. Use the form below to request your FREE deck!  Note: These cards are not for sale. The quantity is limited.
ABOUT US:  We are a free housing service for graduating students.  We serve students starting new careers in Dallas, Houston and Austin.  Students can begin our free service up to 12 months in advance of their graduation.
SIGN UP:
Sign up for our 100% Free-to-You Service to find your perfect apartment and also receive your free Uptown Dallas poker cards. Our service will save you hours of time and remove your stress. We serve new grads & young professionals moving to Dallas, Houston and Austin.   Free Signup: HERE   When you apply, you will also receive a free $100 Amazon card as well as a thank you for using our free service.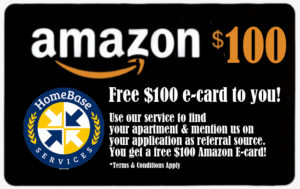 HELPFUL HOUSING TIPS BELOW TO GET YOUR PERFECT APARTMENT
GOT THE FULL TIME DREAM JOB? Next Step, HOUSING!! 
When you get that full time offer for Dallas, Houston or Austin, Homebase Services would love to help you find your perfect new apartment. Our service is 100% Free and super quick!  And you can use our new & free ApartMinute APP to set up your apartment tour in as little as one minute!